Yorkshire Terrier Insurance

Join other UK Yorkshire Terrier owners to get 10% discount on Lifetime Pet Cover insurance for your Yorkie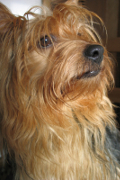 Clever, energetic, cute and loyal, Yorkshire Terriers seem to be unaware of their small size. They are fond of adventure and often assert their position by going up against much larger dogs.
That said, Yorkies are not aggressive animals and are one of the easiest breeds to train. They have a rich legacy in dog shows, most notably with Huddersfield Ben, who is considered the 'father' of the breed. More so, one of the biggest heroes of World War 2 in America was a Yorkie named Smoky – who helped save the lives of many men during her service and even made it to Hollywood!
These days, famous owners of Yorkshire Terriers include Miranda Kerr, Natalie Portman and Vanessa Williams. All of these elements have made the Yorkie one of the most popular breeds of dogs.
Why buy pet insurance for your Yorkshire Terrier?
Yorkies can be prone to gum problems, teeth decay, digestive problems, Bronchitis, liver shunt and eye problems. They make fantastic, adaptable lapdogs, but do not like to be left alone and may be too small and sometimes snappy for younger children.
We said that if 100 owners registered interest by joining this group, we'd commit to opening a conversation with companies that offer pet insurance to find the best possible deal for Yorkshire Terriers. And we're delighted to say that even before reaching that target, we've been able to agree an exclusive offer for group members' Yorkies with John Lewis. So please join the group to find out more!
Why join the Yorkshire Terrier Insurance group?
By joining this group, you club together with other Yorkshire owners to get the best deal on pet insurance for your loyal, trusty friend.