Yorkshire Terrier Insurance

Join other UK Yorkshire Terrier owners to get John Lewis Pet Insurance and a £15 John Lewis voucher*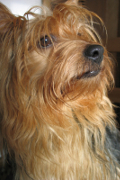 Clever, energetic, cute and loyal, Yorkshire Terriers seem to be unaware of their small size. They are fond of adventure and often assert their position by going up against much larger dogs.
That said, Yorkies are not aggressive animals and are one of the easiest breeds to train. They have a rich legacy in dog shows, most notably with Huddersfield Ben, who is considered the 'father' of the breed. More so, one of the biggest heroes of World War 2 in America was a Yorkie named Smoky – who helped save the lives of many men during her service and even made it to Hollywood!
These days, famous owners of Yorkshire Terriers include Miranda Kerr, Natalie Portman and Vanessa Williams. All of these elements have made the Yorkie one of the most popular breeds of dogs.
Why buy pet insurance for your Yorkshire Terrier?
Yorkies can be prone to gum problems, teeth decay, digestive problems, Bronchitis, liver shunt and eye problems. They make fantastic, adaptable lapdogs, but do not like to be left alone and may be too small and sometimes snappy for younger children.
We said that if 100 owners registered interest by joining this group, we'd commit to opening a conversation with companies that offer pet insurance to find the best possible deal for Yorkshire Terriers. And we're delighted to say that even before reaching that target, we've been able to agree an exclusive offer for group members' Yorkies with John Lewis. So please join the group to find out more!
Why join the Yorkshire Terrier Insurance group?
By joining this group, you club together with other Yorkshire owners to get the best deal on pet insurance for your loyal, trusty friend.
* You can read the full Terms and Conditions here.
Top questions answered by us
What are the typical Yorkshire Terrier illnesses?

Yorkies can be afflicted with various health issues, including portosystemic shunt, cataracts, bronchitis, lymphangiectasia, luxating patellas (slipping kneecaps) and bladder stones. On the wrong diet, they can suffer problems with their digestive system and hypoglycemia. More information can be found on Yorkshire Terrier Savvy and Yorkshire Terriers for Dummies.

What is the life expectancy of Yorkshire Terriers?

This varies according to their size. A healthy Yorkie can live as many as 17 years. Teacup and Miniature Yorkshire Terriers (3 pounds or less) are more susceptible to certain health issues (such as digestion problems) and so tend to have shorter lifespans. As a toy dog, Yorkies are fragile animals and must be handled delicately to make sure they avoid injuring themselves or being injured by other animals or their owner's actions.

What are the benefits of owning a Yorkie?

Yorkies are very easy to train, are very protective of their loved ones and are prone to barking. All of these characteristics combined make them great guard dogs. They might be small but, as mentioned, this never stops them from demonstrating bravery in the face of threats. On a lighter note, Yorkshire Terriers' hair grows very long, which means their owners can have lots of fun creating different haircuts and styles.
Community questions and answers
Answers: 6
Helpful Votes: 0
Hi, I have a 9 month old Yorkie and your website states I can get Morethan Premier cover at £11.25 per month but when I go to the Morethan site to get a quote (following the link from here) they are asking £23.38 per month, why is this? This is a lot more than £11.25.

Hi Deb, the prices in our best buy tables are examples - to get them we ran quotes for a 3 year old Yorkshire Terrier in a Milton Keynes postcode. Your Yorkie's age certainly will have been a factor in the higher quote you received; where you live may also have impacted the quote. Frustratingly, all dogs do become more expensive to insure as they get older as the probability of vet treatment increases. Anyway - I hope that is helpful, and do please let me know if you have further questions. Best wishes, Sam

Hi, My Yorkie is currently only 9 months old, that should be the cheapest amount surely? I also work at Battersea Dogs and cats Home where I get free vet treatment so I would not be using my insurance often unless I needed specialist treatment. I already have a 9 yr old mongrel who has been insured with Petplan since he was 3 years old and I only pay £30 per month for him now and that is a cover for life policy for up to £4000 per year. £23 per months seems a lot for a 9 month old pup, especially when I get free vet treatment for most things. I was very interested when it was £11 or even £15 but £23 is pricey and is that a cover for life policy, it is their top policy?

Apologies Deb - I misread your message as 9 years rather than 9 months. £23 does indeed sound quite high, even for Premier (for info, More Than Premier is a lifetime policy offering £12,000 of vet bills cover per year). If you would like to email your home postcode to support@boughtbymany.com, I will run some test quotes and get back to you with an explanation. Many thanks, Sam

I too have two young yorkies a dog, nearly 2 and a half and a bitch 22 mnths. I have insurance currently with Animal Friends, I pay 10.33 a month for each, and they are covered for 2k per condition, up to 7k a year. John Lewis is more expensive, they want over £34 per month, so I'll be sticking with Animal Friends, I think

Hi Paula, thanks for getting in touch. I am sorry to hear you were disappointed with the quote. There are certainly different policies that work better for certain circumstances. We do also have a deal with More Than, we have negotiated a 20% reduction on their polices, so you might want to give that a try too. https://boughtbymany.com/offers/pet-insurance/ I hope that helps. Kind regards, Heidi
Answers: 2
Helpful Votes: 0
Is the 20% discount an introductory offer or a yearly discount that we will always get with 'Brought By Many'? Also is could someone with an older Yorkie tell me what they are paying monthly for a 5 yr old Yorkie or a 9 yr old for example?

Hi again Deb. You get the 20% discount every year if you continue to renew with More Than. Sam
How much is long term pet insurance for a Yorkshire Terrier?
Based on insuring a 3-year old Yorkshire Terrier, in an MK postcode. Vet's fees are covered up to £4,000 for Petplan, £7,500 for John Lewis, £12,000 for MORE TH>N. Data as at 11 September 2014.
| | | | | |
| --- | --- | --- | --- | --- |
| John Lewis | Plus | £16.30 per month | 5/5 Defaqto rating | Quote |
| MORE TH>N | Premier | £19.93 per month | 5/5 Defaqto rating | Quote |
| Petplan | Classic | £23.67 per month | 5/5 Defaqto rating | Quote |
Defaqto has a star ratings system for pet and other types of insurance. "A basic product, with a low level of features and benefits" scores 1 star, while "An excellent product with a comprehensive range of features and benefits" scores 5 stars. Find out more.