Wolf Dog liability insurance

Specialist liability insurance for Wolf Dogs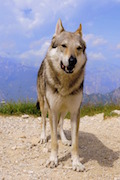 Wolf Dogs are enchanting beasts that are rewarding to own.
Despite their distinctive features, Wolf Dogs behave like other breeds of a similar size. Unfortunately, many companies view them differently because they are descended from wolves and owners may find it difficult to access services other dog owners take for granted, such as insurance.
Pure breed Wolf Dogs are classed as Dangerous Wild Animals (DWA) in the UK so they'll need a licence and liability insurance. But when you get down to third-generation (also known as F3) Wolfdogs you do not need a DWA licence so it's the same as owning any dog.
However, you may find that insurers will still refuse to cover your pet.
That's why Brooks Braithwaite (Sussex) Limited has created a specialist public liability (also known as third-party) insurance policy for Wolf Dogs. It is not a legal requirement and does not include vet fees but it can cover expensive compensation and legal costs in the event an animal injures someone or causes damage.
Join this group and click get a quote to find the enquiry form. Fill it in and Brooks Braithwaite will call you back to discuss your needs and help with your quote. You can also call them on 0345 982 5499.
The cost of Wolf Dog liability insurance will depend on the level of cover you need, but Brooks Braithwaite prices start at around £120 a year.
Czechoslovakian Wolf Dogs and Saarloos are two popular Wolf Dogs that are often crossed with other breeds, and they're both covered by the insurance.