West Highland Terrier Insurance

Join other UK Westie owners to demand a fairer deal from pet insurance companies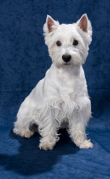 Cheerful, courageous, and cuter than a boatload of monkeys, the West Highland Terrier is unsurprisingly a popular pal.
Hobbies include chasing, digging and having their tummies tickled; and they tend to be happiest with owners who like taking care of their dapper white coats (after all, they have a number of modelling contracts to maintain – it's not for nothing that Westies became the face of leading brands such as Cesar dog food and Black & White whisky).
Oh, and did we mention that Westies love Waterskiing? But of course they do – how else could anyone explain the 'Waterskiing Westies 2013 Action Calendar' (which appears to be doing a brisk trade through reputable internet retailers)?
Although there are certain conditions that can develop in Westies (occasionally those handsome coats suffer from skin allergies, and 'Westie Jaw' can make it painful to eat), they're generally a happy and healthy little dog. And we want them to stay that way – which is why we're inviting you to club together with other Westie owners, to get a better deal on pet insurance. Currently, there is an offer available with MORE TH>N, so please join the group to find out more.
So if you know other Westie owners, why not invite them to join too?