Please call for a quote None
Wedding Planner Insurance

Join other wedding planners to get a good deal on wedding planner public liability insurance and business insurance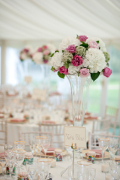 A wedding is a meant to be the happiest day of a couple's life. However, with rising costs and constant reports of grand celebrity weddings to contend with, it can also be extremely stressful to organise.
This is why more people each year are turning to professional wedding planners for help. The latest statistics from You and Your Wedding revealed 11% of brides would think of hiring a wedding planner. With over 231,000 weddings per year, that's a sizable market.
That said, the life of a wedding planner is not an easy one. Couples, and particularly brides, can become very stressed and occasionally downright unreasonable when planning a wedding, and so the wedding planner has to be constantly prepared and alert. With so much pressure, the margin for error is a large one. Things naturally go wrong when planning a big event, and frustration can be taken out on the wedding planner, whether rightly or not.
Having legal action taken against you is not only stressful, but can be financially devastating and destroy a carefully constructed reputation. This policy includes professional indemnity insurance, which protects you against claims of negligence or malpractice; and public liability insurance, which covers you for any damage caused to members of the public or property as a result of your professional practice.
By joining this group, you join forces with other wedding planners to get a great deal on protecting your business, so that can be free to concentrate on helping bring the joyful celebration of true love to life.
Please call for a quote None