Travel Insurance with High Blood Pressure

Join this group to demand a fairer deal on travel insurance for people with high blood pressure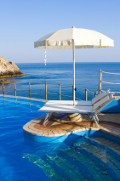 High blood pressure, or Hypertension, affects around 3 in 10 adults in the UK, with those over 65 twice as likely to have it (over 6 in 10 adults in the UK currently have the condition). There are usually no symptoms and the cause of high blood pressure is varied, and not always known.
While most people are able to control their blood pressure with the use of medication or life-style changes and live a normal, healthy life, risks still exist in certain situations, including when travelling. The main point for concern when travelling is spending long periods of time on a cramped airplane. More information about flying with high blood pressure can be found on the NHS website. It is always recommended to have your doctor declare you 'fit to fly' and some airlines will require evidence of this.
Additionally, it is best to insure you have a sufficient amount of any prescription medication with you and that you learn as much as you can about your destination, including altitude level, climate and the health risks of the local food.
The most important thing for those suffering from high blood pressure is to avoid stress. Allow plenty of time for travel and insure you are well prepared, so that you can have a relaxing and enjoyable holiday.
If your high blood pressure is well managed and has little effect on your everyday life, it is easy to forget or think it unnecessary to declare it as a pre-existing condition when applying for travel insurance. However, to make sure you are fully covered, it is important to be open and honest with the insurance company about any condition you have.
That said, declaring you have high blood pressure can often lead to you having to pay very high premiums. By joining this group, you come together with others to get a good deal on travel insurance for people with high blood pressure.
Know other people who would love a good deal on their travel insurance? Share this group with them to spread the word.