Travel Insurance for People with COPD

Join other people with COPD for a fairer deal on travel insurance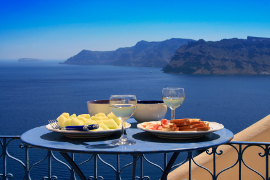 For sufferers of COPD the thought of moving far at all can seem a daunting prospect, but it doesn't mean that the healing properties of a relaxing holiday should be beyond their reach. In fact, as salt-caves are commonly used in the treatment of COPD, the healing properties of fresh sea air could be extremely beneficial.
COPD, or Chronic Obstructive Pulmonary Disease, is the name used to describe a number of conditions, including chronic bronchitis and emphysema, whose sufferers have difficulty breathing because of long-term damage to their lungs. If you are a COPD sufferer, you are not alone. An estimated 3.7 million UK residents live with the condition, which also includes Chronic Obstructive Airways Disease. You can find support and information about living with COPD direct from the British Lung Foundation, or join one of their 230 'Breathe Easy' support groups nationwide.
Provided you have been cleared to travel by a medical professional, the only thing that might stop you jumping aboard that cruise right away is the added cost to your travel insurance that some companies will expect you to pay.
By joining our group you use the buying power you share with other COPD sufferers to get a better, fairer deal on travel insurance.
Community questions and answers
Answers: 1
Helpful Votes: 0
Utterly disgusted with the way disabled people are treated.
Answers: 3
Helpful Votes: 0
What is point of this site. Have copd which is under control and only one hospital visit in last year yet recommended insurer would not cover. Frustrated

Hi Fred, thanks for getting in touch. I am really sorry to hear that. I would suggest trying Free Spirit instead, they are a travel insurer who specialise in medical conditions and older travellers. They offer cover for a greater range and severity of medical conditions than most other insurers, so we feel they are in a good position to help our the members of our medical condition groups. We've negotiated a deal with them for members to provide a 12.5% discount. You can get this discount by quoting and buying online here: https://www.freespirittravelinsurance.com/bbm If Free Spirit cannot quote online, they consider a wider range of people (and offer a more thorough service) over the phone. Hence you can still get the Bought by Many discount if you call them on 0845 230 5000 and quote BOU2310. I hope that helps. Kind regards Heidi

Not really, it's a quote not much different from any other. I have not been in hospital with Copd for well over 10 years. But can manage at Home because I sometimes use oxygen. And that's why my insurance is so dear. But u won't find any insurance companies I have ever claimed from because there isn't one. .
Answers: 5
Helpful Votes: 0
Does anyone know of an insurer who will cover multiple conditions at a reasonable price. I've tried for a quote on here (Travel Adder) and came up with an apology for no quotes at all.

Hi Jacqui, I am really sorry you were unsuccessful getting a quote through the group. Earlier on today this group was amended and is now with a different provider, and you are much more likely to be successful getting cover, please do try again. Many thanks, Heidi

Hi Jacqui, I am really sorry you were unsuccessful getting a quote through the group. Earlier on today this group was amended and is now with a different provider, and you are much more likely to be successful getting cover, please do try again. Many thanks, Heidi

I have just had a refusal also

Hi Christine, I am really sorry to hear that. I would suggest trying Free Spirit instead, they are a travel insurer who specialise in medical conditions and older travellers. They offer cover for a greater range and severity of medical conditions than most other insurers, so we feel they are in a good position to help our the members of our medical condition groups. We've negotiated a deal with them for members to provide a 12.5% discount. You can get this discount by quoting and buying online here: https://www.freespirittravelinsurance.com/bbm If Free Spirit cannot quote online, they consider a wider range of people (and offer a more thorough service) over the phone. Hence you can still get the Bought by Many discount if you call them on 0845 230 5000 and quote BOU2310. I hope that helps. Kind regards Heidi