Please call for a quote None
Travel Insurance for Endometriosis

Join others who have Endometriosis to get a fairer deal on travel insurance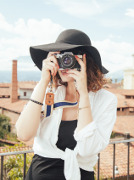 Endometriosis is thought to affect around two million women in the UK, with most cases being diagnosed in those between the ages of 25 and 40. Symptoms of the condition can vary widely, and while some women experience issues such as pelvic pain and heightened fatigue, others have few or no symptoms at all.
Endometriosis UK is a charity that works to provide help and support to those with the condition, to raise awareness and to assist with medical research. Their website provides information on a range of relevant topics; there are also links to a number of local support groups that help people to come together, along with an online forum. Another excellent source of information and advice is the Endometriosis SHE Trust.
If you have Endometriosis and are planning to take a holiday, it's advisable to check with your doctor first. The next step will be to arrange good travel insurance – but sadly you may find this isn't so easy. And, if you do find a suitable policy, chances are you'll be asked to pay a higher premium than those without the condition. We believe this it unfair.
By joining our group, you use the buying power you share with others who have Endometriosis – to get a better, fairer deal on insurance.
Please call for a quote None