Translator Indemnity Insurance

Use the collective buying power you share with other Translators to get better terms on Indemnity Insurance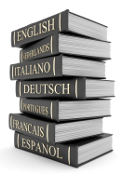 Increasingly, translators in the UK are taking out professional indemnity insurance to cover errors and omissions.
Why do translators need indemnity insurance?
Occasional mistakes are an inevitability for translators. These can lead to losses for clients, and then to negligence claims against the translator


Translation can involve access to sensitive information. If this data is lost or compromised by the translator, legal action may result


Clients are increasingly demanding that translators have indemnity insurance


Having professional liability insurance portrays an image of professionalism and responsibility


The new way to buy Translator Indemnity Insurance
We're using the collective buying power of our members to negotiate better terms on translators indemnity insurance (also known as Error and Omission Insurance in the translation industry). By joining this group, you'll be able to buy professional indemnity insurance at a reduced price.
Top questions answered by us
What insurance is needed by a translator?

The most important insurance for translators is professional indemnity insurance, known in the translation industry as Errors and Omissions insurance (E&O). This covers you in case a client takes legal action against you for making a mistake in the translation, missing something out or missing a deadline or compromising sensitive information through no fault of your own (for example, if your computer is stolen).
Community questions and answers