69 Members
Please call for a quote None
Thatched House Insurance UK

Join other UK thatched home owners to demand a fairer deal on thatched house insurance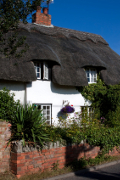 Considerations with Thatched Houses
There are currently an estimated 60,000 thatched houses in Britain, and more are being built. Appealing as they are, thatched roof properties do come with a rather long list of considerations, such as the type of thatch used, the requirements of conservation areas and listed buildings regulations, and fire proofing. Additionally, it is difficult to get house insurance for a thatched property, especially in a flood area.
While the thatch itself can be costly whether you are building a new home or maintaining an older one, it makes for great insulation and is both economical and eco-friendly.
We don't current have an offer set up for Thatched property insurance but we've written an article about finding insurance for non-standard properties. Click through to find out more.
Please call for a quote None
Top questions answered by us
What are the best fire precautions for a thatched house?

The chimney is a major area of concern for thatched roof properties. It is very important to make sure the pointing of your chimney stack is in good condition, otherwise hot gasses can seep into the thatch and cause combustions. Other recommendations include using the correct form of fuel, laying any wiring in the roof space in trunking to prevent causing an electrical fire, fitting flue liners where appropriate, and making sure all plumbing in the roof space is done with compression points, rather than capillary (soldered joints). It is worth noting that the use of fire retardants needs to be thought through carefully as they may slow the spread of fire, but they also decrease ventilation, which might speed up the deterioration of the thatching material.

Are thatched roofs expensive to insure?

Unfortunately, they are. This is due to their degradable nature (they can last as little as 15 years) and the perception they are a bigger fire risk (although, as discussed, this is not actually the case).

What is the durability and lifespan of a thatched roof?

It depends on the thatching material used and the location of the house. Elements such as humidity, wind, rain and snow all affect the condition of the thatch (especially if the roof has a more shallow pitch, which impairs its ability to shed water). The quality of both the material used and the workmanship of the thatcher also has an impact. Lastly, different thatching materials have different life expectancies: water reed (also known as Norfolk reed) is the most durable and can last 55-65 years, combed wheat (a.k.a Devon wheat reed) typically lasts 20-40 years and long straw (most commonly used in Britain historically) usually lasts 15-25 years. Of course these are all estimates and are dependent on the other factors mentioned above.

Is animal infestation in thatched roof covered by insurance?

The preconception that animals regularly infest thatched roofs in another myth. Good quality thatching, which is well laid and maintained, should not develop holes or be attractive to animals to shelter in.