69 Members
Please call for a quote None
Thatched House Insurance UK

Join other UK thatched home owners to demand a fairer deal on thatched house insurance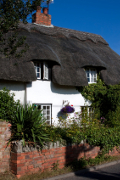 Considerations with Thatched Houses
There are currently an estimated 60,000 thatched houses in Britain, and more are being built. Appealing as they are, thatched roof properties do come with a rather long list of considerations, such as the type of thatch used, the requirements of conservation areas and listed buildings regulations, and fire proofing. Additionally, it is difficult to get house insurance for a thatched property, especially in a flood area.
While the thatch itself can be costly whether you are building a new home or maintaining an older one, it makes for great insulation and is both economical and eco-friendly.
We don't current have an offer set up for Thatched property insurance but we've written an article about finding insurance for non-standard properties. Click through to find out more.
Please call for a quote None