64 Members
Please call for a quote None
Stage Hypnotist Insurance

Join other hypnotists to demand cheaper public liability insurance for stage hypnotists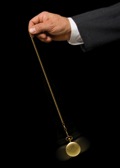 Stage hypnotism is often criticised in contradictory ways. On the one hand, critics say the authenticity of the practice is questionable, and trickery is often involved; but on the other, they say it is dangerous and irresponsible to try and control people's minds. However, responsible stage hypnotists only hypnotise willing and naturally extrovert members of their audience who are already engaged in their show. Paul McKenna has even referred to stage hypnosis as '3D Karaoke'.
Despite this, insurance companies generally dislike stage hypnotism and exclude it from public liability insurance policies aimed at magicians, as it is perceived to be a bigger insurance risk. However, performed correctly and by a trained stage hypnotist, that should not be the case.
Our promise is that when 50 stage hypnotists join this group, we will begin negotiations with specialist insurance companies to get fairer terms on public liability insurance for stage hypnotists. So, if you know other stage hypnotists, why not invite them to join the group too?
Special thanks to Gordon for bringing the challenges faced by stage hypnotists to our attention and inspiring this group.
Please call for a quote None