Spinone Pet Insurance

Join other Spinone owners for a great deal on pet insurance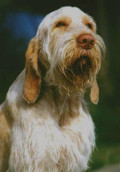 With its bushy eyebrows, moustache and beard, the Spinone Italiano is a distinguished dog that commands respect.
The exact origin of the Spinone is not proven, but they are thought to be an ancient breed, developed as Italy's all-purpose hunting dogs. It is only recently that the Spinone has become popular outside of its native nation of Italy, though they are still considered a rare breed.
Gentle, good natured and protective, these shaggy-coated dogs are great company. Their calm and loving character makes them great with kids, but they are not suitable for indoor living. They need daily exercise and make great hiking partners. The Spinone are expert trackers and hunters, able to get through rough terrain with the help of their bristle coat (Spinone is Italian means thorn), they love water – both to swim in and drink.
Not enough is known about health problems that are unique to the Spinone. Conditions typical to a dog of this size, such as hip dysplasia and bloat can occur and the breed can be prone to a brain condition known as Cerebellar Ataxia. More information can be found at the Italian Spinone Club of Great Britain.
By joining this group, you come together with other Spinone owners to get a great deal on insurance for your Italian charmer.