Shetland Sheepdog Insurance

Join other UK Sheltie owners to demand a fairer deal from pet insurance companies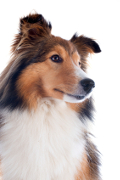 Intelligent and intensely loyal, emotional and endearingly shy, Shetland Sheepdogs are as colorful on the inside as they are on the outside. Shelties are good with tricks, have an irrepressible voice and even have their own dance move in the 'Sheltie Spin'! Surely they'd lead the pack in any canine talent show?
Shelties are active dogs, still used today in sheep herding, and they're happiest when kept in good shape. Whilst generally healthy, there are some problems to which Shelties are particularly prone, such as the skin condition Dermatomyositis (DM) – hence it sometimes being known as 'Sheltie Skin'. Unusually for smaller dogs, they can suffer from Hip Dysplasia. Good veterinary treatment can help to manage and alleviate the symptoms of these conditions, helping your Sheltie to carry on with an active and enjoyable life. It's also recommended that Shelties have their eyes tested at an early age, as there are sadly some genetic eye defects which may affect them.
By forming this group, we'd like to help you use the collective buying power you share with other Sheltie owners to get a better deal on pet insurance. Already, we've negotiated a special offer with More Than - please join the group to find out more. And if you know other Sheltie owners, why not invite them to join too?