Shar Pei Insurance UK

Join other UK Shar Pei owners to demand a fairer deal from pet insurance companies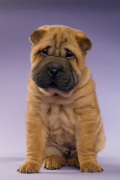 About Shar Pei
The American writer Mark Twain believed that "wrinkles should merely indicate where smiles have been". Based on this criterion, the Shar Pei is the world's happiest dog – smiling from nose to tail.
The Shar Pei's loosely wrinkled skin help give this breed its unique appearance and charm. They originated in China about 2,000 years ago and were bred for hunting and dog fighting. Their loose skin helped provide protection when fighting, as it is nearly impossible to bite through. It also allowed the Shar Pei to attack whilst under attack.
Why buy pet insurance for your Shar Pei?
Many owners consider pet insurance for their Shar Pei to cover the cost a vet treatment
There are certain health conditions that dog lovers should be aware of when considering a Shar Pei as a pet. Shar Peis suffer from different skin conditions and problems throughout their life, including fungi, irritations and allergies.
One common health problem is Entropion, which is when of the dog's eyelids fold inwards. Thankfully, this can be successfully treated with surgery.
Meanwhile, Shar Pei Fever is a breed-specific condition which can result in the painful swelling of the hind legs. Whilst the condition may be inherited genetically. It's believed that avoiding stress (physical or emotional) can help to reduce repeated attacks.
Shar Pei pet insurance provides cover for the potentially costly vet treatment needed for these and other medical conditions. Pet insurance can also help when a Shar Pei is lost or stolen.
Why join the Shar Pei Insurance group?
By joining this group, you use the buying power you share with other Shar Pei owners to get a better deal on pet insurance.