Please call for a quote None
Scuba Diving Holiday Insurance

Join other scuba divers to get a better deal on scuba diving holiday insurance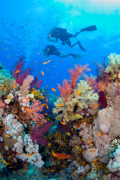 Humans have always had a fascination with the ocean. Countless books and films have tried to decipher the mysteries of the big blue depths, from Jaws, to 20,000 Leagues Under the Sea, to The Little Mermaid and Finding Nemo.
However, no film can possibly compare to being submerged in water, surrounded by the graceful and unique creatures who call the water home. While some fear these animals, others want to get as close as possible to them. This is why scuba diving is ever increasing in popularity, and some people choose their holiday destination based on the best known scuba diving spots. Some even elect to say their vows under water!
Like all great adventures, scuba diving is not without its dangers, the most serious one being decompression illness, which can require you to receive Hyperbaric Chamber therapy or be air lifted to hospital. These treatments do not come cheap and often make scuba diving an expensive extra to your travel insurance premiums, or impossible to cover at all.
By joining this group, you club together with other scuba diving enthusiast to get a better deal on your scuba diving holiday insurance. When 50 people join the group, we will begin negotiations with an insurance company to get you the best deal for your underwater explorations.
Please call for a quote None