Schnauzer Insurance

Join other UK Schnauzer owners to demand a fairer deal from pet insurance companies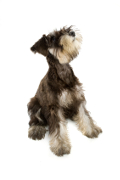 The Schnauzer breed originated in Germany in the 15th and 16th centuries. Adorably, the name means 'moustache' in German, in reference to the look of the breed's facial hair.
There are three types of Schnauzers:
The Miniature Schnauzer was established in Germany in the 19th century, by breeding the Standard Schnauzer with Poodles and other smaller dogs. They are highly energetic, friendly and intelligent, but not suitable for outdoor living. Health issues common in mini schnauzers include kidney stones, diabetes, liver disease, skin problems, eye problems, cysts and von Willebrand's disease. They must not be over fed.
The Standard Schnauzer is a working dog, originally bred herding and guard duties. These days, they are mostly kept as family pets. They are lively, loyal and protective of their home, but also make great travelling companions, as they are easy to train and very intelligent. They are generally healthy dogs and can live to 15 years or more, but are prone to hip dysplasia and tumours.
The Giant Schnauzer is also a working dog, bred in Germany around the end of the 19th century, mainly for cattle driving and as a guard dog for the police and military. The Standard Schnauzer was bred with Great Danes to increase the dog's size. Health issues include hip and elbow dysplasia, epilepsy, bloat and cancer (especially toe cancer).
Celebrity Schnauzer owners past and present include Doris Day, Liza Minnelli, Ronnie Corbett, Katherine Heigl, Rob Lowe, Usher, and Simon Pegg.
Whether your Schnauzer is mini, standard or giant, you can join this group and use the collective buying power you share with other Schnauzer owners to get a great deal on pet insurance for your little, or large, pal.
Community questions and answers
Answers: 1
Helpful Votes: 0
Two of my Schnauzers have existing medical problems. The 5 year old giant has epilepsy and our 12 year old has diabetes requiring two doses of insulin per day. Would these be covered ?
Answers: 4
Helpful Votes: 0
I currently have an insurance policy with more than for my mini schnauzer but would like to take advantage of this great offer, but when I called to ask if they could match this offer they said no. Can I cancel my current policy and take another with more than using this group/offer or does that breach terms and conditions? I can't see it anywhere? Does this offer only apply to new more than customers? Thank you

Hi Claire - Yes, unfortunately More Than are only making the discount available to new customers. Do have a look at the Best Buy tables, though, as there are some other options you might want to consider. Best wishes, Sam

I'm in a similar position in that my renewal is c.£10 per month more than my current policy. Regards Andrew

Hi Andrew, thanks for your message. I am really sorry to hear that. Unfortunately More Than has stipulated that this deal is for new customers only. We have written an article on the best pet insurance if you are looking to shop around for a cheaper deal. https://boughtbymany.com/news/article/best-pet-insurance-for-dogs-2013-uk/ I hope that helps. Kind regards, Heidi
How much is pet insurance for a Schnauzer?
Based on insuring a 3-year old Schnauzer, for 12 months, in an MK postcode. Minimum criteria: £3,000 vet fees cover. Data as at 11 September 2014.
| | | | | |
| --- | --- | --- | --- | --- |
| MORE TH>N | Basic | £13.13 per month | 3/5 Defaqto rating | Quote |
| John Lewis Insurance | Essential | £18.37 per month | 4/5 Defaqto rating | Quote |
| Petplan | Essential | £19.37 per month | 3/5 Defaqto rating | Quote |
Defaqto has a star ratings system for pet and other types of insurance. "A basic product, with a low level of features and benefits" scores 1 star, while "An excellent product with a comprehensive range of features and benefits" scores 5 stars. Find out more.