Samsung Galaxy Note Insurance

Join other Samsung Galaxy Note users to get a good deal on gadget insurance for Samsung Galaxy Note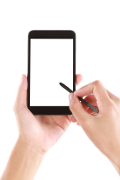 Once upon a time, there were people who believed that a phone was a phone, and a tablet was a tablet – and never the two should meet. The idea of a hybrid device, they said, just wouldn't float. Really, who would want such a thing?
Perhaps the design team at Samsung didn't hear the question. Or more likely, they already knew the answer: within a year of its release in late 2011, the Galaxy Note sold more than 10 million units
(with sales of humble pie charting significant growth around the same time). The 'phablet' was born – and there could be no looking back.
And whilst the phablet market becomes more interesting by the day, with a growing number of brands launching their own devices, Samsung's Galaxy Note seems to be staying one step ahead of the curve.
We'd like to help the users of the Samsung Galaxy Note stay one step ahead of the curve, too. So we've created this group, to bring you together with others to get a better deal on phone insurance for Samsung Galaxy Note.