Samoyed Pet Insurance

Join other UK Samoyed owners to demand a fairer deal from pet insurance companies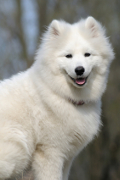 If there was a competition for dogs who look most like fairy-tale creatures, the Samoyed would be a very strong contender.
With a thick, very fluffy white coat and slightly up-turned black lips that make the Samoyed look like it's got a permanent grin on its face, this friendly, lively dog is a true delight to have around. Smiley Sammies, as they are affectionately nicknamed, are fantastic with children, and are always eager to play and engage with humans.
Sammies have a very easy disposition and are suitable for apartment living, but must have daily exercise, are big eaters and require daily grooming (unless you are after new dog-hair flooring for your home). The Samoyed people, after which these beautiful dogs were named, used to spin the dogs' (naturally) shed fur into yarn for clothing, as well as use them as herding and sled dogs, and to snuggle up with against the Siberian chill.
Health wise, Sammies are generally healthy, but can suffer from some hereditary conditions, such as diabetes, hip dysplasia, hypothyroidism, eye and heart issues and Samoyed Hereditary Glomerulopathy, which is a renal condition. Additionally, they are prone to over-heating, and so must be kept in a cool climate.
Join the group to use the buying power you share with other Samoyed owners to get a great deal on pet insurance for your sociable, smiley fur-ball.