Rottweiler Insurance UK

Join other UK Rottweiler owners to demand a fairer deal from pet insurance companies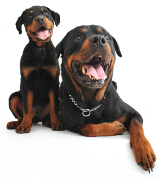 Rottweilers, contrary to some people's expectation, are calm, obedient and loving. They have occasionally been stereotyped in the media as dangerous dogs – a reputation which is unearned and unfair. Like any dog, they are very protective of their families and can be wary of strangers, but underneath their powerful build lies a warm, playful and sometimes even docile personality. And as the saying goes: There's no such thing as a dangerous dog – only an irresponsible owner.
Rottweilers originally come from Germany, where they were once used as herding dogs, rounding up cattle and guarding them from would-be thieves or wild animals. It is believed that these dogs were even favoured by the armies of the Roman Empire, and would accompany the soldiers on their long journeys.
As with any large dog breed, Rottweilers can sometimes develop problems with their joints, such as the hips, knees or shoulders. They can also be prone to obesity if not given regular exercise.
By joining this group you use the buying power you share with other Rottweiler owners to get a better deal on insurance. Currently, there is an offer available, so please join the group to find out more.
Community questions and answers
Answers: 2
Helpful Votes: 0
Hi, my rottweiler Teej has juvenile cataracts. I have only had him for a month and cannot distinguish whether he was born with the condition or not. Would you help cover some or all of the cost of the surgery bills with any level of cover?

Hi there Kieron, I'm terribly sorry to hear about Teej. Unfortunately insurers do not currently provide cover for live/ongoing conditions - at the moment your pet must be symptom free for at least 2 years. We are continuing to work with providers to develop and negotiate policies that offer cover in these circumstances. We would recommend joining our Pre-Existing Medical Conditions group (https://boughtbymany.com/offers/pre-existing-medical-conditions-pet-insurance/) to make your voice heard and to strengthen the campaign. Do let us know if we can give you any further help or information.