Pug Insurance

The world's first pet insurance policy specifically tailored for pugs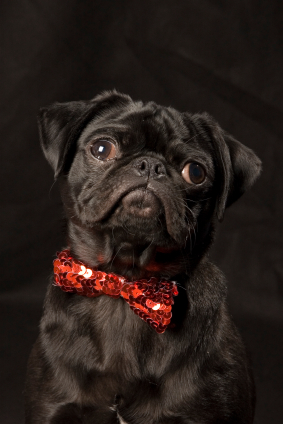 Most owners believe their pugs deserve special treatment - we think that should extend to pet insurance.
Funny, cute, and fond of dressing up in tuxedos and other costumes, it's hardly surprising that the profile of pugs keeps rising, whether it's Loca the pug that can't run, Frank the Pug in Men in Black, or Gemma Correll's Pugs Not Drugs t-shirt. So it's unsurprising that more people in the UK search for 'pug insurance' than for pet insurance for any other breed of dog.
There are three key reasons why pug owners - or pug parents - can benefit from joining this group to buy pet insurance for their pug. Firstly, there are several breed-specific pug health problems which some insurers exclude from pet insurance cover. Secondly, owing to a combination of their sociable and inquisitive temperament, their diminutive size, and their financial value, regrettably pug puppies are a popular target for thieves. And thirdly, the growing number of pugs means there is an opportunity for you to club together with other pug owners and use your combined buying-power to get a better deal on pet insurance.
We promised that if 100 pug owners registered interest by joining this group, we'd start discussions with pet insurance companies to find the best possible deal for your pug. And we're delighted that we've now completed those negotiations, and agreed an exclusive offer for group members' pugs with the UK's number 1 pet insurance provider, Petplan. So please join the group to find out more!
Finally, the bigger the group becomes, the better the offers we'll be able to negotiate - so please do invite your pug-owning friends to join too.
Top questions answered by us
Community questions and answers
How much is lifetime pet insurance for a pug?
Based on insuring a 3-year old Pug, in an MK postcode. Minimum criteria: £4,000 vet fees cover (£12,000 for More Th>n). Data as at 11 September 2014.
| | | | | |
| --- | --- | --- | --- | --- |
| Petplan | Classic | £27.11 per month | 5/5 Defaqto rating | Quote |
| MORE TH>N | Premier | £33.28 per month | 5/5 Defaqto rating | Quote |
| John Lewis Insurance | Plus | £29.62 per month | 5/5 Defaqto rating | Quote |
Defaqto has a star ratings system for pet and other types of insurance. "A basic product, with a low level of features and benefits" scores 1 star, while "An excellent product with a comprehensive range of features and benefits" scores 5 stars. Find out more.