Pomeranian Insurance

Join other UK Pomeranian owners to demand a fairer deal from pet insurance companies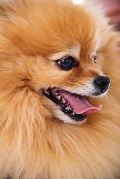 Pomeranians have enjoyed a surge in popularity in recent years, much as they did in the 1890s when Queen Victoria showed her miniature Pomeranian Marco. This may be due to Facebook's most popular dog, Boo the Pomeranian, whose haircut (or "bear cut") has won him over 7m fans; or it might just reflect the enduring appeal of the affectionate Pomeranian temperament.
Poms are sturdy and healthy dogs, and although they sometimes have knee and windpipe problems, they typically need less vet treatment over their lifetimes than other dog breeds. This robustness makes Pomeranians very attractive to pet insurance companies – which is why we've started this group.
By joining, you can use the collective buying power you share with other Pomeranian owners to demand cheaper pet insurance for Pomeranians and Pomeranian puppies. We said that once 15 Poms were on board, we would open negotiations with insurance companies to make this a reality. And the good news is that we've already negotiated a special offer on Pomeranian pet insurance with MORE TH>N - so please join the group to find out more.
But if you know other Pomeranian owners, why not help increase the group's buying power even further by inviting them to join too?