Pit Bull Terrier Insurance

Third party liability and pet insurance for Pit Bull Terriers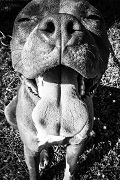 Liability Insurance|Pit Bull Pet Insurance|How much does it cost?|Alternatives|The Dangerous Dogs Act
Can you get insurance for a Pit Bull in the UK?
Yes. It is a legal requirement in the UK for Pit Bulls to have Third Party Liability Insurance. This is a provision of The Dangerous Dogs Act.
Also known as Public Liability Insurance, Third Party Liability Insurance is designed to cover compensation and legal costs in the event that your dog injures someone or causes an accident. It doesn't cover vet treatment, or provide any of the other benefits of pet insurance policies.
Third Party Liability Insurance for Pit Bulls can be arranged by the specialist insurance company Brooks Braithwaite (Sussex) Limited. To get an application form, call 0345 982 5505.
Pit Bull Pet Insurance
At Bought By Many, we believe all dogs deserve access to pet insurance, regardless of their age, circumstances, or breed. We believe Pit Bulls have been unfairly victimised by The Dangerous Dogs Act, and that it's time the insurance industry did something to help.
That's why we've worked with Brooks Braithwaite (Sussex) Limited to arrange Pet Insurance for Pit Bulls. This insurance is designed to pay out for unexpected vet bills resulting from an accident or illness.
Brooks Braithwaite (Sussex) Limited's Pet Insurance is underwritten by Allianz - one of the world's largest insurance companies.
By joining our free Pit Bull Insurance group, you'll be able to:
See full details of the pet insurance cover available for Pit Bulls
Get a quote to insure your Pit Bull
Add your voice to demand fairer treatment for Pit Bulls by the insurance industry
Anyone who thinks pitbulls are innately vicious has not spent time with my kind friend Ghost pic.twitter.com/kkaGwpqMbR

— Brett Scott (@Suitpossum) March 17, 2016
How much does Pit Bull Insurance cost?
The cost of third party liability insurance for a Pit Bull is £78 per year. Call Brooks Braithwaite (Sussex) Limited on 0345 982 5505 to find out more. Lines are open 9am - 5pm Monday to Friday.
The cost of pet insurance for Pit Bulls varies based on factors including your postcode and your dog's age. To get a no-obligation quote for your dog, please join the group.
What are the alternatives?
Third party liability insurance is included with membership of the Dogs Trust. However, it isn't possible to get pet insurance for Pit Bulls through the Dogs Trust.
As it is a legal requirement to have third party liability insurance, the consequences of owning an uninsured Pit Bull can be severe. Owners can be fined and even imprisoned, while uninsured Pit Bulls can be seized by the police and put down.
I grew up with a pit bull, and they aren't devil dogs. They're the best, says @MaryWakefield http://t.co/PvcJDfVXJh pic.twitter.com/rHjQaprdZs

— The Spectator (@spectator) May 7, 2015
The Dangerous Dogs Act
In 1991, the UK Government passed The Dangerous Dogs Act. This controversial piece of legislation was intended to respond to a number of attacks by dogs on children, which had been the subject of sensationalized reporting by the press.
The Dangerous Dogs Act banned four breeds in the UK:
Pit Bull Terrier
Fila Brasileiro
Japanese Tosa
Dogo Argentino
As a result, keeping, breeding, and selling these dogs is illegal. However, owners can apply to the courts for an exemption. If the dog is judged not to be a threat to public safety, he or she is added to the Index of Exempted Dogs.
Critics of the act include the RSPCA, who argue that it puts unfair emphasis on the dog, rather than the owner. Other issues relate to putting the act into practice. For example, courts have to determine the dog's breed based on its appearance, which has led to Staffies and English Bull Terriers being wrongly classified as Pit Bulls.