Pet Insurance for Tyne-and-Wear Dogs

Join other UK dog owners to demand a fairer deal from pet insurance companies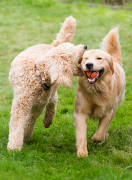 In Richard Adams' novel 'The Plague Dogs', Rowf and Snitter (a mongrel and fox terrier respectively) embark upon a great escape from an animal testing facility. They are helped in their adventures by a red fox called The Tod, who speaks to them in a Geordie accent, having been born "far ahint th' Cross Fell". This is fine for Snitter, but more difficult for Rowf – who can't understand a word the fox says. Today's dogs seem to have developed a firmer grasp of the local dialect, and can be seen happily carrying out their owner's instructions to sit, heel, fetch, etc.
Tyne-and-Wear dogs have it pretty good, really. Their human companions are often remarked upon as being "the friendliest people in the world", there's a wealth of glorious surrounding countryside and coastline, and several local Football clubs, including Newcastle United FC and Sunderland AFC, even supply team shirts specially made for dogs – allowing them to cheer (or woof) along in support of the Magpies or The Black Cats.
We all want the best for our four-legged friends. They deserve looking after in the best way we can, which is why we're offering a great deal on insurance. So when you're out walking the dog and someone asks 'Alreet Pet?' – you can confidently answer yes.
By joining this group, you will be coming together with other Tyne-and-Wear dogs (and their owners), to gain a better deal on pet insurance.