Siberian Cat Pet Insurance

Join other UK Siberian Cat owners to demand a fairer deal from pet insurance companies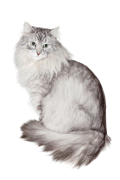 With its inspiring strength, inquisitive intelligence and chunky-but-elegant fur coat, it's perhaps no surprise that the Siberian enjoys the honour of being Russia's National Cat. And in fact, they can often be found stalking the corridors of power: Dorofei, the right-hand cat of Prime Minister Dmitry Medvedev, has been described in the Russian media as "tough, independent, and not one for following protocol." He has also been introduced to Barak Obama, seen his portrait printed on a Russian Banknote… and is alleged to have brawled with Mikhail Gorbachev's feline comrade (also a Siberian).
Siberians are renowned for their many distinctive features. There's the gravity-defying leap, made possible by those muscular hind legs; the sonorous 'triple purr'; and their seemingly endless fascination with water. Their cosy, semi-longhaired coats are especially thick during winter – there aren't many other cats who could survive Russia's subarctic climate.
Over the decades, many Siberians have come to live in the UK, perhaps attracted by its slightly milder climate. So while that coat may not be quite as necessary for warmth, a regular (once or twice weekly) grooming will help preserve those luxuriant textures and colours.
By joining this group you use the buying power you share with other Siberian Cat owners to get a better deal on insurance. Currently, there is an offer available with MORE TH>N, so please join the group to find out more.