Pet Insurance for Dogs in Scotland

Join other UK dog owners to demand a fairer deal from pet insurance companies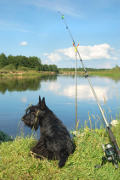 To understand the importance of Scotland in the history of our canine companions, you only have to look at all those breeds whose name harks back to their glorious homeland. From Collies and Cairns, to Scottish Terriers and Shetland Sheepdogs, through Skye and West Highland Terriers – these are names that paint a sweeping picture of beautiful Caledonia.
Perhaps the most famous Son of Scotland (in the dog category at least) was Greyfriars Bobby. Bobby was a Skye Terrier and the loyal companion of John Gray, a night-watchman for the Edinburgh police in the 19th century. When John died and was buried in Greyfriars Kirkyard, Bobby sat by the side of his master's grave for fourteen years – until he himself died. Bobby's devotion was rewarded with his own burial place inside the graveyard, not far from his master, and a statue by the George IV bridge.
Wherever you are in Scotland, magnificent countryside is never far away – whether it's the highlands or the meadows, the lochs or the coastline – and even in the centres of Glasgow and Edinburgh, there are beautiful parks and tree-lined streets. All of which make Scotland the perfect country for dogs and their human companions.
Every dog needs love, care, attention and affection. They deserve looking after in the best way we can – and having the right insurance is an important part of that. By joining this group, you will be coming together with other dog owners in Scotland, to gain a better deal on pet insurance.