Pekingese Pet Insurance

Join other UK Pekingese owners to demand a fairer deal from pet insurance companies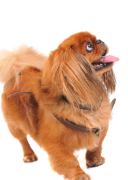 Independent and irresistible, ever so occasionally stubborn but always sensitive, the Pekingese makes for a charming and playful companion.
According to ancient Buddhist legend, the breed originated when a lion mated with a monkey – hence creating a noble creature with a cute-but-funny walk. Whereas according to modern genetic science, Pekes are more closely related to wolves (Pekingese are thought to be one of the oldest dog breeds).
One of the world's most famous Peke-lovers was Dame Barbara Cartland. Among the 723 books she authored (one wonders where she found the time to walk her dogs), there was even one romantic door-stopper called 'The Prince and the Pekingese', which features an adorable Peke named Twi Twi – named after her own beloved companion.
Owing to their small, flat faces, Pekes can sometimes develop problems which affect their breathing; they should not be kept outside for long periods as they can not easily adjust their body temperature. And because their bodies are relative long compared to their legs, they can be susceptible to back problems. So take care when picking up your Peke (ensure that both the chest and abdomen are supported) and discourage them from vigorous jumping and bouncing.
By joining this group you use the buying power you share with other Pekingese owners to get a better deal on insurance. Currently, there is an offer available with MORE TH>N, so please join the group to find out more.