Over 70's Travel Insurance

A group for people Over 70 to club together and save money on travel insurance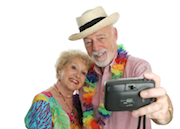 Why make a group for over 70's travel insurance?
Travel insurance for older people has always been a challenge. There are fewer insurers providing cover for older individuals so not only is insurance harder to find, but all too often it is also very expensive.
Given the improving quality of life, health, activity and longevity of the over 70s we think this is frustrating. So that's why we've created this group - firstly to help connect Over 70s to the specialist travel insurance companies who can help them, and secondly to get them a better deal.
How does it work?
Just join the group using the link to the right - this is free, and qualifies you as member of the group along with other Over 70s seeking travel insurance. More importantly it combines your buying power with that of the group, meaning you get access to a better deal on your insurance.
So, what do I get if I join the group?
We've partnered with a specialist insurance company that focuses on providing travel insurance for older travellers. Using the collective buying power of the group, we've secured an exclusive discount from this specialist insurer for all the group's members.
By joining this group, you'll be able to see details of our exclusive members' offer and access best buy tables illustrating how the offer compares with other travel insurance for the over 70s. Join today and use the collective buying power you share with other people Over 70 to buy discounted travel insurance for Over 70s with a leading specialist company!
Have pre-existing medical conditions that need cover?
Not a problem! Our partner insurer understands that medical conditions are all-too-often a fact of life for the older traveller. As a result they are willing to cover a wide range of medical conditions, although an additional premium may apply.
A relative youngster, under 70? Older, wiser and over 75?
We've been busy negotiating with insurers for a variety of age groups. See our related offers below!
A new group for people over 65 to club together and get a fairer deal on travel insurance
A group for people Over 75 to club together and save money on travel insurance
A new group for people over 80 to club together and get a fairer deal on travel insurance