Over 50s iPad and iPhone Insurance

Join other Over 50s for a 22% discount on insurance for your iPad and iPhone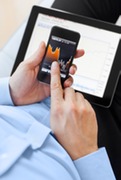 Statistically, Over 50s are safer drivers and benefit from cheaper car insurance as a result. We believe it's time this principle was applied to create cheap iPad and iPhone insurance for Over 50s too.
Why is this? Well, it's simply because Over 50s take better care of their iPads and iPhones than younger people, and therefore make fewer insurance claims. Perhaps unsurprisingly, Over 50s rarely claim for theft of an iPhone while texting on the street outside a nightclub, or accidental damage caused by a drunken friend sitting on their iPad...
Another big driver of gadget insurance companies' costs is fraudulent claims, which spike whenever Apple releases new models. Again, Over 50s are less likely to make a dubious claim simply to get their hands on (say) the iPhone 5 instead of the iPhone 4S, or the iPad mini instead of the iPad 2.
We said that if 25 people joined the group, we would commit to opening negotiations with insurers to get cheaper gadget insurance for your iPad and/or iPhone. And now that's exactly what we've done! Please join the group to see details of the offer we've negotiated for members.
And if you have friends who love their iPad or iPhone, why not invite them to join the group as well? The more people who join the group, the more powerful its negotiating position will become.
Top questions answered by us
What is gadget insurance?

Not to be confused with the manufacturer's warranty or services like AppleCare (both of which cover faults and issues with the product), gadget insurance is intended to cover loss, theft, or accidental damage to an iPhone, iPad, iPod Touch, Macbook Pro, Kindle Fire, or any other gadget, whether inside or outside the home. Some types of gadget insurance also include cover for calls made or data used by thieves or fraudsters, and protection against identity theft.

Aren't my iPad and iPhone covered by my home insurance?

Most normal home contents insurance policies will only pay out if your device is destroyed in a house fire or stolen in a burglary. So, accidental damage is not typically covered, and nor is loss or theft while you are out of the house.

That said, if you are already paying extra on your home insurance for "all risks" cover, you might not need to buy gadget insurance, so do check your policy documents. Similarly, if you have a paid-for current account package from banks such as Barclays, Natwest, and Lloyds TSB, you may find mobile phone insurance for your iPhone is included in that.

Shouldn't I just buy iPhone insurance from my mobile phone provider?

Although gadget insurance is often sold by mobile phone companies such as O2, Orange, and T-Mobile (now known as Everything Everywhere) when a new contract is taken out, people are increasingly shopping around. There are several reasons for this. Firstly, gadget insurance policies sold by mobile companies often aren't designed to cover older iPhone models, such as the iPhone 3GS. Secondly, they often insist that you buy insurance within a short period of buying the phone - so if you've had your phone for 6 months or more, they may refuse to cover you. And thirdly, shopping around can offer much better value for money.


Can I insure my iPad and iPhone along with other gadgets?

Yes - we will find a gadget insurance company to work with who enables you to cover all your gadgets along with your iPad and/or iPhone. Insurance for laptops, camera insurance, Nintendo DS insurance, and insurance for any other gadgets will be available as part of the same policy.

A new group for people over 65 to club together and get a fairer deal on travel insurance
A group for people with Type 1 and Type 2 diabetes that gives back to a UK diabetes charity
A group for people Over 85 to club together and save money on travel insurance