Over 50s iPad and iPhone Insurance

Join other Over 50s for a 22% discount on insurance for your iPad and iPhone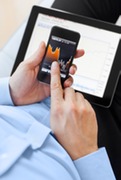 Statistically, Over 50s are safer drivers and benefit from cheaper car insurance as a result. We believe it's time this principle was applied to create cheap iPad and iPhone insurance for Over 50s too.
Why is this? Well, it's simply because Over 50s take better care of their iPads and iPhones than younger people, and therefore make fewer insurance claims. Perhaps unsurprisingly, Over 50s rarely claim for theft of an iPhone while texting on the street outside a nightclub, or accidental damage caused by a drunken friend sitting on their iPad...
Another big driver of gadget insurance companies' costs is fraudulent claims, which spike whenever Apple releases new models. Again, Over 50s are less likely to make a dubious claim simply to get their hands on (say) the iPhone 5 instead of the iPhone 4S, or the iPad mini instead of the iPad 2.
We said that if 25 people joined the group, we would commit to opening negotiations with insurers to get cheaper gadget insurance for your iPad and/or iPhone. And now that's exactly what we've done! Please join the group to see details of the offer we've negotiated for members.
And if you have friends who love their iPad or iPhone, why not invite them to join the group as well? The more people who join the group, the more powerful its negotiating position will become.
A new group for people over 65 to club together and get a fairer deal on travel insurance
A group for people with Type 1 and Type 2 diabetes that gives back to a UK diabetes charity
A group for people Over 85 to club together and save money on travel insurance