Old English Sheepdog Insurance

Join other UK Old English Sheepdog owners to demand a fairer deal from pet insurance companies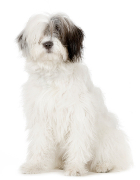 If you've ever witnessed an Old English Sheepdog bumping into children, you'd be forgiven for thinking the poor thing can't see where it's going – what with all that fur dangling over its eyes. It's more likely however that this big, friendly dog is making a very gentle attempt at rounding the children up. As the name suggests, Old English Sheepdogs are thought to be related to collies – and appear to have inherited their strong herding instincts!
Old English Sheepdogs are rightly recognised for their tireless promotion of splendid undercoats – both their own (the shaggy kind) and the ones that come in tins, beloved of painters and decorators. That's because they're the mascot of Dulux, the paint company, and have been for many years. In fact, it's not uncommon these days to hear the term 'Dulux Dog' used in reference to these gentle giants.
By joining this group you use the buying power you share with other Old English Sheepdog owners to get a better deal on insurance. Currently, there is an offer available with MORE TH>N, so please join the group to find out more.