248 Members
Please call for a quote None
Off Road Quad & Bike Insurance

Join other off road & quad bike owners to get a better insurance deal for your machine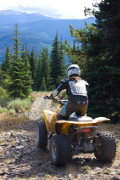 While driving a quad or off-road bike on the road can be dangerous, off road quad biking is a fun activity that is suitable for all ages. That said, a real danger for off road quad bike owners is theft. Quad bikes are increasingly being stolen at quad racing tracks, as well as from homes - including kids' quad bikes.
Unfortunately, insurance companies often fail to understand that off road and quad bikes do not have the same insurance requirements as road-registered vehicles. This can mean riders receive quad or bike insurance quotes which are as expensive as the machine itself. Everyone who enters quad and bike races accepts the risks involved, so most owners' main need is actually for insurance to cover the risk of quad and bike theft.
When 100 quad and off-road bike users join the group, we will begin negotiations with a specialist insurance company to get the best offer tailored to the needs of riders. So, if you know other riders, why not invite them to join the group too?
Special thanks to Becky for bringing the issue to our attention and making us realise that quads and off-road bikes are not as much of an insurance risk as they are believed to be, which is why we started this group.
Please call for a quote None