Ocicat Pet Insurance

Join other UK Ocicat owners to demand a fairer deal from pet insurance companies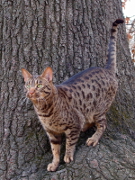 Best of both worlds, the beautiful Ocicat is wild in appearance but all-domestic in temperament. Named for its resemblance to the Ocelot, it is a cross-breed of Siamese and Abyssinian varieties – the first litter is thought to have been a happy accident, as the breeder was hoping for rather different results.
In stark contrast to their wild appearance and powerful, muscular physique, these cats make wonderful companions and love to interact with humans, as well as other animals and pets. In fact, you can while away many happy hours playing fetch with your Ocicat, impress your friends by teaching it to sit on command and even take it for a walk on a lead. In many ways, The Ocicat is a dog in cat's clothing. Of course, that means that your Ocicat may require a little more attention than other more independent feline friends.
Angled, pointed ears gives these creatures a classic, almost ancient nobility and their almond eyes are perfect for seeing at night.
There are twelve colours approved for the Ocicat breed including luxurious chocolate, tawny, ebony and silver with spots and base coat in contrasting colours. This is a very striking creature indeed.
By joining this group you use the buying power you share with other Ocicat owners to get a better deal on insurance. Currently, there is an offer available with MORE TH>N, so please join the group to find out more.