Newfoundland Dog Insurance

Join other UK Newfie owners to demand a fairer deal from pet insurance companies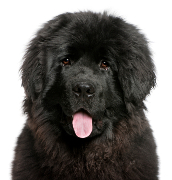 About Newfoundlands
Patient and devoted, the Newfie is, literally, a huge contradiction. These dogs may look like bears, but they are really more like gentle lambs.
Newfoundlands are renowned for their calm, sweet nature, their loyalty and their physical strength. They are also known to be great with children, a trait which was immortalised in J.M Barrie's Peter Pan, as the household's nurse-dog Nana is a Newfie (inspired by the author's own Newfie, Luath). Other famous owners include Robert F. Kennedy, Emily Dickinson and Lord Byron (who wrote the poem 'Epitaph to a Dog' for his Newfie, Boatswain).
The breed originated in the 1700s in Newfoundland, Canada as a working dog, mainly to aid fisherman. These days, advances in maritime technology mean Newfies are mainly used as family pets, but they are still excellent swimmers and love the water.
Why buy pet insurance for your Newfoundland?
Health issues experienced by the breed can include hip and elbow dysplasia and cystinuria. Newfies are also prone to a genetic heart defect called subvalvular aortic stenosis (SAS). Pet insurance can help with the cost of vet treatment for these and other medical conditions should they arise. It can also provide public liability cover, in case your dog causes an accident.
Why join the Newfoundland dog insurance group?
By joining this group, you can use the collective buying power you share with other Newfoundland owners to demand a fairer deal on pet insurance for the breed. Already we've negotiated a 20% discount for members with MORE THAN - so please join the group to find out more and get a quote for your Newfie.
And if you know other Newfoundland owners, why not invite them to join too? The bigger the group becomes, the stronger its negotiating position with insurance companies will become.
What our members say
"Thank you, I've just saved £11 a month" - Kristina
"I recently lost one & really thought I couldn't afford another pup as our remaining Newf is now up to £130 per month for insurance via PetPlan. However,having now discovered Bought By Many, I will be able to get our Newfie a pal after all." - Lesley
"The insurance was a lot cheaper with more cover than what I had been quoted on the comparison websites" - Ray
Read more member comments on our Facebook page.
Community questions and answers
How much is pet insurance for a Newfoundland?
Based on insuring a 3-year old Staffie, for 12 months, in an MK postcode. Minimum criteria: £3,000 vet fees cover. Data as at 11 September 2014.
| | | | | |
| --- | --- | --- | --- | --- |
| MORE TH>N | Basic | £29.09 per month | 3/5 Defaqto rating | Quote |
| John Lewis Insurance | Essential | £44.35 per month | 4/5 Defaqto rating | Quote |
| Petplan | Essential | £49.55 per month | 3/5 Defaqto rating | Quote |
Defaqto has a star ratings system for pet and other types of insurance. "A basic product, with a low level of features and benefits" scores 1 star, while "An excellent product with a comprehensive range of features and benefits" scores 5 stars. Find out more.