Multiple Sclerosis Holiday Insurance

Join others with MS and get a better deal on travel insurance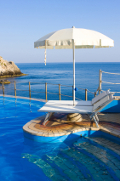 A holiday is supposed to provide uplifting relief from the stresses and strains of everyday life, but for people with MS the extra planning and costs involved in travelling can seem off-putting.
As many people diagnosed with the condition will testify, however, there is no reason that, with the agreement of their doctor, a person with Multiple Sclerosis shouldn't take whatever trip they wish.
One of the things that can really dampen the holiday spirit is struggling to find a fair deal on travel insurance. Many companies either simply do not offer cover, or charge unfairly high premiums to people with conditions like MS.
By joining our group you use the buying power you share with other people who have Multiple Sclerosis to get a better, fairer deal on insurance.
The National Multiple Sclerosis Society is a fantastic source of support and information: they have a specific Travel and Recreation section, including travel tips from a doctor with over 20 years' experience in treating people with MS.