Multi Dog Insurance

Join other UK dogs owners to demand a fairer deal from pet insurance companies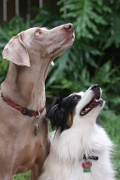 There are around 8 million dogs in the UK, with about 25% of households hosting at least one four-legged friend.
And dogs aren't merely lovable pals; they're a part of our identity. From the British Bulldog who sits up proudly as our national symbol, through a crack team of Border Collies rounding up the nation's sheep, to those charming Corgis who are arguably the most popular members of the Royal family. In our Island Story, the dog is never far from centre-stage.
For some people, dogs are so brilliant that the idea of only having one seems like a missed opportunity. Fortunately, there's no law stating how many canines you can keep (the ancient Mongolian Emperor Kubla Khan was said to own 5,000 Mastiffs – perhaps it was the pet food and multi dog insurance bill that drove him to repeatedly conquer his neighbours and steal their gold).
However many dogs you own, having them insured is always a good idea.
While each breed is different – some more likely to develop certain health problems; others at a greater risk of being stolen, or needing third party cover for accidental damage they may cause – you can save money by insuring them all together using a multi dog pet insurance policy.
So if you own more than one dog, you can join this group and take advantage of our exclusive offer on multi dog insurance.
And if you know other multi-dog owners, why not invite them to join too?
Learn more
Find out more about insurance with our guide to the best pet insurance for dogs.