Maltese Pet Insurance

Join other UK Maltese owners to demand a fairer deal from pet insurance companies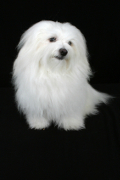 Once upon a time, the Maltese was the subject of much debate. Some believed them to be a kind of terrier, owing to their temperament and keen rodent-hunting abilities (hence them formerly being referred to as 'Maltese Terriers'). Others, looking at the body shape and those glorious coats, decided the Maltese came from the same family as the spaniels. Eventually it was decided that the breed was neither terrier nor spaniel – so today, these silky-smooth champs are known simply as "Maltese Dogs".
Maltese have a noble and illustrious past. They've been muses to ancient Greek poets and companions to royalty; they've walked alongside great musical talents such as Elvis Presley and Britney Spears. More recently, a Maltese by the name of Trouble made the headlines when he became the world's richest dog – having been left $12 million in the will of his owner, American businesswoman Leona Helmsley (she herself became infamous for claiming "only the little people pay taxes". As for little dogs, presumably she felt they should be exempt from inheritance tax).
Maltese Dogs can sometimes develop a condition (known as aberrant cilia) when eyelashes grow in an abnormal direction, which can irritate the eye and eyelid. Their eyes may also be affected by 'tear staining', which can be caused in a number of different ways. Maltese owners should check their pets' eyes regularly and seek advice from a good vet if any problems are noticed.
By joining this group, you club together with other Maltese owners to get a better deal on insurance for your Maltese.