Macbook Air Insurance

Insure your MacBook Air from just £3.86 per month using the 22% member discount we've negotiated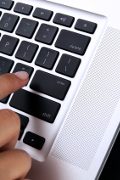 Apple's Macbook Air was ceremonially introduced by Steve Jobs at the Macworld Conference and Expo in 2008. It was launched as a lighter, more portable incarnation of the original Macbook.
While the Macbook Air's standing as the thinnest notebook in the world had been contested, it is still considered by many to be the best Ultrabook on the market and hugely popular with consumers (it accounted for most of the 6.5 million Macbooks sold in the first half of 2012).
The machine's portability is a clear benefit, but unfortunately it also makes it an easier target for thieves, as well as put it at risk of being damaged while on the move. These elements, as well as the usual risk of loss and damage, make insurance particularly important.
By joining this group, you can club together with other Macbook Air owners to benefit from an exclusive offer on your gadget insurance.
Top questions answered by us
Is my Macbook Air covered abroad?

Yes, you can insure your Macbook Air for loss and damage for a maximum of 90 days in a 12 months period. All repairs must be undertaken in the UK and approved by the policy underwriter.

What other gadgets can I cover on the multi-gadget policy?

You can insure any gadget, including non Apple products. However, certain restrictions do apply (for example, your Macbook Air must have been bought in the last 12 months and not through an online auction site), details of which can be found in the policy wording.

Can I insure my Macbook Air and include the software installed on it?

Download cover is included in the Premier policy and is an optional add-on for the Essential and Essential Plus policies.