London Dogs Insurance

Join other dog owners in London to demand a better deal on pet insurance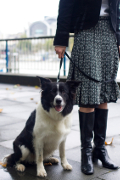 London has a reputation for being an unfriendly city. However, those who live in it know that is not the case – the capital is a welcoming place to both people and their canine friends. With an abundance of parks, gardens and heaths, there is never a shortage of space for dogs to run around. Further, many cafes, pubs and other establishments in London allow, and even encourage, owners to bring in their dogs.
That said, while the city itself is great for dogs, the insurance industry is less accommodating and premiums for pet insurance in London tend to be higher than anywhere else in the country. Higher vet bills, caused by higher rents for premises, higher staff wages and the above average cost of living can all drastically increase premiums, which is why we started this group.
By joining, you can club together with other London dog owners to demand cheaper cover. We've already agreed a cash back offer for members.