Liability insurance for taking a dog to work

Specialist liability insurance for taking a dog into an office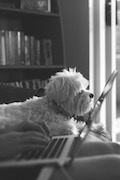 More and more companies are allowing employees to take their dog to work. It can help save on dog sitting costs and create a fun and friendly office environment for staff.
And it can be beneficial for the dog, they'll be less stressed if they're near their owner and they might get more an exercise than if they were sitting at home all day.
If your business does allow you to take your pet to the office they may require you to have public liability insurance, which can cover expensive compensation and legal costs in the event an animal injures someone or causes damage.
Not all pet insurance policies will include liability cover for a dog in a place of work. However, Brooks Braithwaite (Sussex) Limited offers a specialist liability insurance policy for individuals taking dogs into an office during the working day.
Join this group and click get a quote to find the enquiry form. Fill it in and Brooks Braithwaite will call you back to discuss your needs and help with your quote. You can also call them on 0345 982 5499 to request an application form.
The cost of liability insurance depends on the level of cover you need, but Brooks Braithwaite prices for dogs being taken into an office start from under £100 a year.
Offices can be unfamiliar places for dogs, full of people who may be over friendly or scared of pooches, so having liability insurance can give you peace of mind so you can get on with your work and caring for your dog.