Labradoodle Insurance

Join other Labradoodle owners to get 32.5% discount on More Th>n pet insurance, exclusive for group members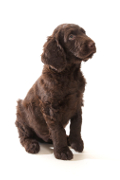 If Crufts were ever to introduce a category for "Dog Type with the Best Name," the Labradoodle would surely be wagging its tail in anticipation of first prize (whilst being careful not to underestimate a bold challenge from the Cockapoo).
As that wonderful name suggests, the Labradoodle is, originally and most commonly, a cross between a Labrador Retriever and a Poodle (usually a standard or miniature poodle). It is also possible to breed one Labradoodle with another, hence producing a 'Multigenerational Labradoodle'.
Why buy pet insurance for your Labradoodle?
Just as Labradoodles come in many shapes, sizes and colours, so the health and fitness will vary from one dog to another. Where possible, owners are advised to find out as much information as they can regarding the health of their Labradoodle's parents. Pet insurance can provide some peace of mind, and provide vital financial help if your Labradoodle gets injured or develops one of the hereditary conditions common in its parent breeds.
Why join the Labradoodle Insurance group?
By joining this group, you club together with other Labradoodle owners to get the best deal on pet insurance for your royal companion.
* You can read the full Terms and Conditions here.