Kindle Touch and Kindle Paperwhite Insurance

Join other Kindle readers and get a 22% discount on insurance for your Kindle Touch or Kindle Paperwhite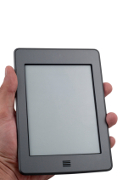 When Amazon released the first version of its Kindle E-reader in 2007, it sold out in 5 and a half hours and remained out of stock for 5 months. Since then, and with the release of the Kindle Touch and Kindle Paperwhite, the popularity of the Kindle has only grown, with 1 in 40 people in the UK receiving a Kindle as a Christmas gift in 2011.
Why would I insure my Kindle? Well, creating the perfect collection of your favourite books and downloads on your Kindle takes money as well as time. And unlike a room of a thousand books, a Kindle Touch or Kindle Paperwhite is relatively easy to steal or damage. Insuring your Kindle Touch or Kindle Paperwhite means that you have protection against having to bear all the costs of replacing the device, or the library you have stored on it, yourself.
By joining this group, you can use the collective buying power you share with with other Kindle owners to get cheap Kindle Touch insurance and Kindle Paperwhite Insurance.
If you have a Kindle Fire, please join the Amazon Kindle Fire Insurance group.
Top questions answered by us
Why is it called a Kindle?

Lab 126, the Amazon subsidiary that developed the Kindle, asked branding consultant Michael Cronan to name the device. He and his wife chose Kindle, as it means 'to light a fire', which they thought represented a metaphor for the affect reading has on people's intellect.

Are my downloads covered under the policy?

Downloads are included in the cover for Premium policy holders, and are an optional extra for all other policies.

Is my Kindle covered abroad?

Yes, you can insure your Kindle for loss and damage for a maximum of 90 days in a 12 months period. All repairs must be undertaken in the UK and approved by the policy underwriter.

I have a Kindle Fire, can I join this group?

This group is for E-readers only, but you can click here to join our Kindle Fire group!