Irish Wolfhound Insurance

Join other Irish Wolfhound owners for a £15 cashback on pet insurance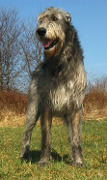 The Irish Wolfhound is the tallest dog in the world and can reach up to 7" on its hind legs!
This means this breed is only suitable for people with space to spare! They also require a lot of food, which can be an extra expense. That said, if you have the suitable environment, these beautiful dogs will certainly make it worth your while with their affectionate and loyal nature.
They are suitable for indoor living, as they're not very active, but do require some outdoor exercise daily. They are also suitable for families with small children and other smaller animals as they are docile and patient dogs.
As the name suggests, they originated in Ireland and are believed to have been around since as early as the third century BC. They were originally used for hunting elk, wild boar and wolves, but were so well thought of, they were also given as gifts to kings.
They have short life spans – only six to eight years. They are prone to heart problems (which can also lead to issues with the feet), bone cancer and bloat.
By joining this group you club together with other Irish Wolfhound owners to get a great deal on insurance for your scruffy gentle giant.