Irish Setter Insurance

Join other UK Irish Setter owners to demand a fairer deal from pet insurance companies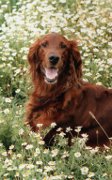 Loyal, playful and energetic, Irish Setters make excellent family pets. They are always happy and gentle, which makes great for young children.
As their name suggests, they were bred in Ireland and, probably influenced by the country's stunning green expanses, they love the outdoors. They need a lot of exercise and space to run around (make sure to keep them where you can see them though, as they are very fast). The White House has a long standing love affair with Irish Setters – both president Truman and Nixon had Irish Setters as their chosen breed of pet.
When they were first developed, they were white with red patches – a variation that is now classed as a separate breed called the Red and White Setter. The familiar Mahogany colouring of the modern Irish Setters first appeared in the nineteenth century and became the breed standard. Their long coats mean they require regular grooming, but their desire to please mean they are easy to train.
They have an excellent sense of smell and can run over long distances and varied terrain, due to their large hearts. However, they are prone to various health conditions, including cancer (particularly bone cancer), severe skin allergies, hip and elbow dysplasia, epilepsy, eye disease and bloat.
By joining this group, you club together with other Irish Setter owners to get a great deal on pet insurance for your happy-go-lucky pup.