iPod Touch Insurance UK

Join other iPod Touch owners and get a 22% discount on insurance for your Apple iPod Touch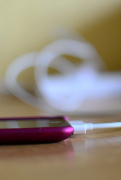 The iPod touch has come a fair way since its launch all the way back in 2007. The technology in that original model was groundbreaking, its design impeccably elegant, and the benchmark it set for competitors remarkably high. Never one to rest on their laurels, however, it was the iPod manufacturers, Apple, who have consistently pushed at the boundaries of what a portable media player can do.
Now in its 5th generation, the iPod touch grows slimmer, more innovative and more dazzling with each new model. It's a music and video player, a games console, a web browser and a personal assistant all rolled into one pocket-sized powerhouse. In fact, there's not much it doesn't do. Oh, and it looks great too.
With any product as good as this, eventually everybody wants one – and sadly that includes thieves. They're also designed to be portable, of course – leaving one at home would be missing the point – but this also means there's a greater risk of breaking, knocking or spilling something on them. Or dropping one accidentally into your drink (it can happen, so we're told).
Join this group to use the buying power you share with fellow iPod touch owners and enjoy exclusive rates on your insurance.