HTC Desire HD Insurance

Join other HTC Desire HD owners and get a 22% discount on insurance for your smartphone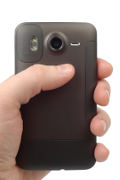 Back in 2009, HTC advertised their smartphones under the tagline "quietly brilliant". Perhaps everything seemed quiet at that point – but it wasn't long before everyone was talking about this new kid on the block.
In 2010, the company's flagship device, the HTC Desire, was named phone of the year by T3 magazine. The successor to that model, the HTC Desire HD, was intended as a refinement rather than a revolution. And with its larger screen, Quick Start functionality, customisable menu and advanced gaming experience, this model certainly delivered that 'un-putdownable' factor.
If you've taken the decision to invest in an HTC Desire HD, it's a good next decision to protect that investment. Having the right insurance against loss, theft or damage will help you spend less time worrying, and more time enjoying all that this smartphone has to offer.
By joining this group, you will be coming together with other HTC Desire HD owners to get a better deal on gadget insurance.