House Insurance in Flood Risk Areas

A better way for people who live in areas of significant flood risk to insure their homes.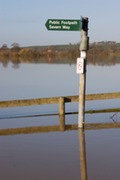 More than 5.2 million properties in England and Wales are at risk of flooding from surface, groundwater, river or coastal flooding, according to the Environment Agency. And over 200,000 properties are in areas "at significant risk" of floods.
These homes were in danger of becoming uninsurable, but following the launch of Flood Re in April 2016 insurers can now cover high-risk homes with more affordable premiums.
While Flood Re has helped limit rising home insurance costs, people in flood areas still face higher premiums than elsewhere in the UK so we've negotiated an exclusive deal for all Bought By Many members.
We have shopped around on your behalf to source an insurance provider that specialises in flood risk insurance and negotiated cashback for members of this home insurance for flood risk areas group.
The insurance provider we are working with, HomeProtect, is offering policies using Flood Re, so our members can get both the benefits of our cashback deal and the Flood Re savings.
To find out more and to get a quote, join this group.
You can read our in-depth guide to how Flood Re works here.