Glaucoma Travel Insurance

Join this group to demand a fairer deal on travel insurance for people with Glaucoma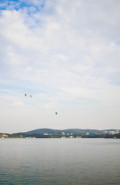 Glaucoma is a collective name for a group of conditions which cause damage to the eye and can affect vision. The most common type of Glaucoma, chronic open-angle glaucoma, affects about 480,000 people in the UK – about 1 in 50 people over 40 and 1 in 10 of people over 75.
Glaucoma is not usually life-threatening and is treatable with medication, but damage caused to your vision by glaucoma cannot be reversed, which makes early diagnosis extremely important. Loss of vision as a result of glaucoma can have an acute effect on a person's life, including the ability to drive, and, in extreme cases, Glaucoma can lead to blindness.
As air pressure is heavily regulated in planes, there should be no issues with flying if you suffer from Glaucoma, though it is recommended you keep eye-drops with you as the air in the cabin can become dry. It is also advisable to take certain precautions when travelling with any condition, Glaucoma included, such as making sure you have enough medication with you and the right conditions to store it. Information on living with Glaucoma, including tips on travelling with Glaucoma, can be found on the Glaucoma Research Foundation website, as well as the RNIB website.
Glaucoma and Insurance
Travel insurance doesn't only protect you in case you need treatment abroad, it also covers you in case you need to cancel your holiday as a result of your condition, or a non-related reason, as well as lost baggage or missed flights. For these reasons we believe that having Glaucoma should not prevent you from getting the right travel insurance for your needs, at an affordable price.
By joining this group, you are adding your voice to our mission to create a fairer insurance industry for people with existing medical conditions, plus you can get a great deal on insurance for yourself.
Know other people who would love a good deal on their travel insurance? Share this group with them to spread the word.