Fox Terrier Insurance

Join other UK Fox Terrier owners to demand a fairer deal from pet insurance companies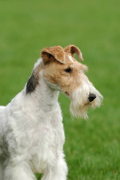 Affectionate, playful and curious, Fox Terriers make great family pets, as well as excelling in conformation dog shows.
The first white terrier on record was Pitch, who was immortalised in a painting by Sawrey Gilpin at the commission of his owner, Colonel Thornton, in 1790. It is believed Pitch was a terrier-greyhound cross, which introduced the colour to the previously black or tan breed.
While generally healthy and with long life spans, Fox Terriers can sometimes suffer from hereditary diseases, such as Cataracts, Cancer and myasthenia gravis in the Smooth Fox Terrier or megaesophagus for the Wire Fox Terrier. Additionally, as the average life span of the Fox Terrier is 15 years, they can encounter age related health issues later in life. All of these factors make insuring your beloved Fox Terrier all the more important.
We created this group to help Fox Terrier owners use their collective buying power to get a better deal on pet insurance. We've already negotiated a special offer with MORE TH>N - so please join the group to find out more. And if you know other Foxie owners, why not invite them to join too? The bigger the group becomes, the stronger its collective buying power will be.