English Bull Terrier Insurance

Join other UK English Bull Terrier owners to demand a fairer deal from pet insurance companies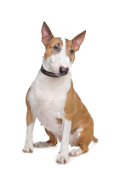 The greatest work ever produced by Sir Walter Scott, the great 19th century novelist and playwright, was perhaps this description of his beloved canine companion, 'Camp': "He was of great strength and very handsome, extremely sagacious, faithful and affectionate to the human species, and possessed of a great turn for gaiety and drollery."
Sir Walter goes on for another page or two, but by now you'll have realised that Camp was, of course, an English Bull Terrier.
Bullies are keen, charming and just occasionally clownish, which makes them great dogs to have around. Their enthusiasm can sometimes get the better of them, meaning they're not always perfectly suited to very young children; but for older kids, they make ideal, tireless playmates (Bullies are sometimes nicknamed 'The Kid in a Dog Suit').
With his lean and muscular frame, uniquely-shaped eyes and face, and occasionally striking colour contrasts, the Bully is an unmistakably handsome chap. To help him stay looking his dapper best, it's important to check his coat regularly for signs or allergies, irritations or excessive scratching. Regular, careful grooming is a must with these dogs.
By joining this group you use the buying power you share with other English Bull Terrier owners to get a better deal on insurance. Currently, there is an offer available with MORE TH>N, so please join the group to find out more.