Engagement Ring Insurance UK

Join the group to get a better deal on insurance for an engagement ring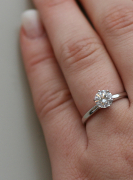 If you're reading this then, first of all, congratulations are in order!
Whether you popped the question over a romantic dinner, on London Overground, on the Ellen show or by getting the world's biggest boyband to help you out, you and your new fiancé must be thrilled. In all the excitement, it is easy to forget about practical things like insuring the ring.
An engagement ring is usually a high value item and, while the sentimental value cannot be insured, the monetary value can and should. If you have content insurance, you may think it will be easiest to just add the ring to your policy, but that isn't always the best option.
Adding a single high-value item to your home content policy can make it significantly more expensive and often doesn't cover the item for damage or for loss outside of your home – which is of course a serious consideration. Additionally, most home insurance policies have a limit on the value of items which can be insured (commonly around £1,000-£1,500).
Join this group to gain access to an exclusive 10% discount on engagement ring insurance from Assetsure – providing cover for loss, theft and damage worldwide.
So that's one item crossed off the do-to list before the big day, which, when it comes to planning a wedding, is no small thing.