Dogue de Bordeaux Insurance

Join other UK Dogue de Bordeaux owners to demand a fairer deal from pet insurance companies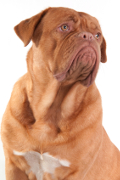 About DDBs
Courageous, vigilant and devoted, this strong, muscular breed is great to have around. They make fantastic guard and watch dogs, though that is partly because of their conformational tendencies with strangers.
Dogue de Bordeaux, otherwise known as Bordeaux Mastiff, French Mastiff or Bordeauxdog, is one of the most ancient French breeds (they are thought to have originated as early as the 14th century, although the modern version of the breed has only been around since the early 20th century).
These dogs may look intimidating (some are so big, they wear collars meant for cows!), but they are actually very gentle with family members, including children. However, they are very strong and so need to be cared for by experienced, knowledgeable dog owners. Socialising from a young age and strong leadership are required to raise a well-adjusted Dogue de Bordeaux.
Why buy pet insurance for your Dogue de Bordeaux?
This is generally a healthy breed, but can be prone to hip dysplasia, heart problems, epilepsy and hyperkeratosis. There is also a high rate of still born and early neonatal mortality in this breed, often requiring caesarean births. They need lots of exercise, as well as mental stimulation, and, if Beasley the Dog is anything to go by, starring in a Hollywood film gives them an extra-long lifespan.
Why join the Dogue de Bordeaux Insurance group?
By joining this group, you club together with other Dogue de Bordeaux owners to get a great deal on pet insurance for your big, slobbering star.