Dangerous Wild Animal (DWA) liability insurance

Specialist liability insurance for Dangerous Wild Animals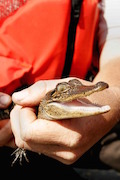 All Dangerous Wild Animals in England, Scotland and Wales need a DWA licence and to get one you need to have liability insurance for the animal.
There's more information about how to apply for a licence here.
The list of animals on the DWA list is huge and includes Caimans, Crocodiles, Monkeys, Venomous Snakes and Bengal and Savannah Cats.
Brooks Braithwaite (Sussex) Limited offers specialist liability insurance for all of these creatures and has years of experience helping people with DWA licences.
Their policy even has an add-on for taking Dangerous Wild Animals to the vet.
Join this group and click get a quote to find the enquiry form. Fill it in and Brooks Braithwaite will call you back to discuss your needs and help with your quote. You can also call them on 0345 982 5499 to request an application form.
The cost of liability insurance for DWAs depends on how many animals you have and the level of cover you need, but Brooks Braithwaite prices start from under £100 a year.
DWA insurance is a legal requirement as part of your licence so it's worth considering an experienced provider that works with handlers and owners.